2017 Ivy Endowment Performance Puzzle: Was Equity Allocation Strategy Irrelevant?
Ivy League endowments number three (Cornell) and four (Penn) released their 2017 returns Friday, producing an impressive 12.5 percent and 14.3 percent return, respectively. When compared with Dartmouth and Harvard endowment returns, which we analyzed last week as part of MPI's annual Measuring the Ivy endowment performance series, an interesting trend emerges.
Regardless of their exposure to equities—public, private, domestic or foreign—general returns on the asset class were pretty similar, based on our quantitative analysis. Interestingly, since public equity indexes beat private equity returns [1]Venture Capital and Private Equity Returns based on Cambridge Advisors reported preliminary returns, accessed 9/29/2017, a more aggressive exposure to private equity and the associated illiquidity premium (a hallmark of the "Yale model") provided no particular advantage last year.
In fact, emerging markets led all global equity asset classes, delivering a nearly 24-percent return on the year (see below). Foreign equities also performed well, delivering about a 20-percent return. U.S. equities followed that, returning roughly 18 percent, while private equity delivered a return of just under 17 percent.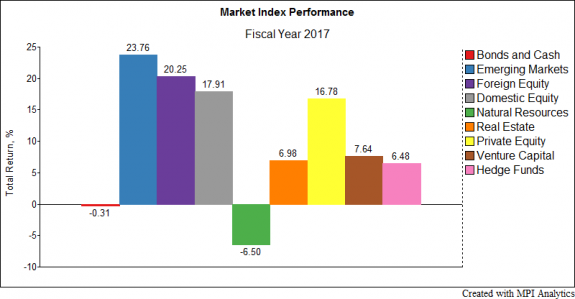 Both Cornell and Penn attributed their strong returns to the bullish equities performance we've seen since the fourth quarter of 2016. Both endowments demonstrated a larger exposure to U.S. equities (see gray bar in below chart) than their counterparts at Harvard and Dartmouth, based on an analysis using our patented Dynamic Style Analysis (DSA) model. DSA is an enhanced returns-based analysis model that provides a more precise view of opaque or complex investment strategies, funds and products.[2]DISCLAIMER: MPI conducts performance-based analyses and, beyond any public information, does not claim to know or insinuate what the actual strategy, positions or holdings of the funds or companies discussed are, nor are we commenting on the quality or merits of the strategies. This analysis is purely returns-based and does not reflect actual holdings. Deviations between our analysis and the actual holdings and/or management decisions made by funds are expected and inherent in any quantitative analysis. MPI makes no warranties or guarantees as to the accuracy of this statistical analysis, nor does it take any responsibility for investment decisions made by any parties based on this analysis.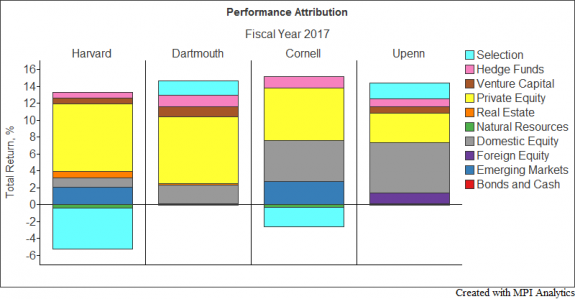 We've also seen the performance of public equities helping to boost returns of smaller endowments. Both University of Houston and University of Missouri recently reported strong returns for the year, 16.06 percent and 13.7 percent, respectively, driven in large part by equity performance.
This article is the second in a series of preliminary posts to the forthcoming MPI Ivy League endowment performance comparison report for fiscal year 2017. Read the first installment here: Dartmouth vs. Harvard, Similar Exposures Yield Significantly Different Results. Our full 2017 report will publish in the fourth quarter, once the endowment reporting period is complete. In the meantime, you can review past analysis of the drivers of Ivy League endowment performance in our reports for fiscal year 2015 and 2016.
| | | |
| --- | --- | --- |
| 1. | ↑ | Venture Capital and Private Equity Returns based on Cambridge Advisors reported preliminary returns, accessed 9/29/2017 |
| 2. | ↑ | DISCLAIMER: MPI conducts performance-based analyses and, beyond any public information, does not claim to know or insinuate what the actual strategy, positions or holdings of the funds or companies discussed are, nor are we commenting on the quality or merits of the strategies. This analysis is purely returns-based and does not reflect actual holdings. Deviations between our analysis and the actual holdings and/or management decisions made by funds are expected and inherent in any quantitative analysis. MPI makes no warranties or guarantees as to the accuracy of this statistical analysis, nor does it take any responsibility for investment decisions made by any parties based on this analysis. |